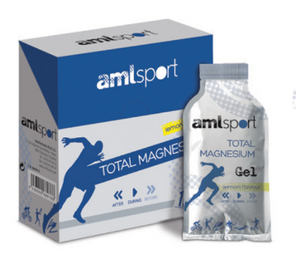 MAGNESIUM TOTAL GEL (12 SACHETS)
MAGNESIUM TOTAL GEL (12 UNITS)
Magnesium contributes to the normal maintenance of the bones, to the normal functioning of the muscles, and helps to reduce tiredness and fatigue. In addition, magnesium contributes to normal energy metabolism, to normal functioning of the nervous system, to electrolyte balance, to normal protein synthesis, to normal psychological function and to the process of cell division. Food supplements do not substitute a varied and balanced diet or a healthy lifestyle. Reformulated to improve the bioavailability and absorption, adding two salts (citrate and magnesium gluconate) of high assimilation and thus improve the athlete's performance, recovery and avoid injuries.
INDICATIONS
For use before and/or during physical exercise to help reduce cramps, twitches and contractures. Helps maintain normal electrolyte balance and muscle relaxation.
DIRECTIONS
Take 2 sachets (20ml) before or during the practice of physical exercise.
INGREDIENTS
1 drinkable sachet (20ml) provides 50% of the Magnesium NRV.