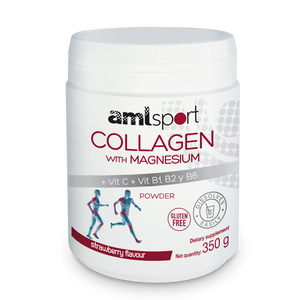 COLLAGEN WITH MAGNESIUM, VIT. C, B1, B2 & B6 - 350g POWDER
COLLAGEN WITH MAGNESIUM AND VITAMINS C, B1, B2 AND B6 | POWDER WITH STRAWBERRY FLAVOUR FOR 46 DAYS / 350 GRAMS
Collagen is the most abundant protein in the human body and is a key constituent of cartilage, tendons and bones and is therefore required on a daily basis. Proteins help to preserve muscle mass. To this compound, we have added: - Magnesium, which plays a crucial role in the formation of proteins. - Vitamin C, which is directly involved in the formation of proteins, meaning that it is necessary for the formation of tissues, as well as its antioxidant effect. - A vitamin B complex that helps the immune system to function normally, and helps reduce tiredness and fatigue. Vitamin B1 contributes to the normal function of the heart and nervous system, and to adequate energy metabolism. Vitamin B2 helps maintain red blood cells and normal iron metabolism. It also protects cells against the damage and oxidative stress caused by exercise. Vitamin B6 also helps regulate hormonal activity and contributes to the normal metabolism of proteins and glycogen, and to the formation of red blood cells.
DIRECTIONS
3 dessertspoonfuls a day, with meals. It can be taken with liquid and with puréed fruit, yoghurt, etc.
INGREDIENTS
Average content per daily dose of 3 dessert spoonfuls (7.5 g):
Hydrolyzed collagen 5.2 g, Magnesium 240 mg (64% NRV), Vitamin C 24 mg (30% NRV), Thiamine 0.33 g (30% NRV), Riboflavin 0.42 g (30% NRV), Vitamin B6 0.42 g (30% NRV).